OUR STORY
Shoes tend (are meant) to get dirty. But why cleaning a loved pair needs to be such a struggle???

That's the question where our story began. Ankit (aka Mojo), a sneakerhead, a hip-hop artist, a biker lad, and now one of the Co-Founders of SHOEGR has had a sneaky affair with shoes for several years. However, keeping the kicks looking immaculate while living a full life is a challenge. So, our boy kept looking for ways and sprays and cleaning kits to find the perfect 'solution'. Sadly, he couldn't find anything that pleased his soul and the sneakers' soles. So, he decided to solve the problem by himself. He brought on board his lifelong friends, Anuj (the techie) and Saurabh (the business guy) and started his quest for the perfect cleaning 'solution'. They researched and experimented for over an year and finally created the sweetest solution that we now know as 'SHOEGR'. Thereafter, the 3 spent several months running trials, getting the cleaning solution lab tested, and preparing to launch one of India's sweetest brand centered around shoe care.
That's how in November, 2021 in a small basement studio in Chandigarh SHOEGR was born. And our boy, Mojo finally became a 'SHOEGR' daddy.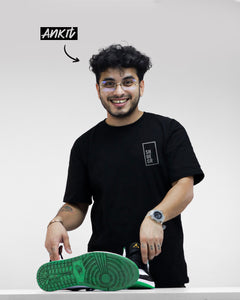 OUR PASSION
At SHOEGR, we've taken our passion for sneakers and combined it with science to create incredible shoe cleaning solutions. Our products are an outcome of rigorous testing, research, experiments and, above all, customer feedback. Customers' needs and satisfaction are our number one priority, we are dedicated to provide a transparent customer experience.
SHOEGR CLEANS, BUT ABOVE ALL IT CARES!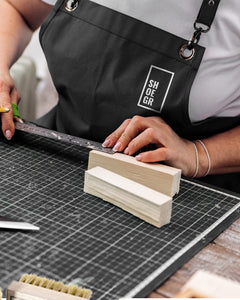 Our Promise
Transparency, sincerity and integrity are at the core of our philosophy. We hold ourselves to the highest ethical standards, and are honest and transparent in all our dealings. Transparency, sincerity and integrity are at the core of our philosophy.

Premium Quality
We never compromise on quality. We pride ourselves in the superior quality of our products, and continuously endeavor to improve. We believe in offering the best or nothing at all.

Credibility
We deliver on our word. We meet our commitments in a timely and efficient manner. We're disciplined and responsible and take personal accountability.

Customer First
You always come first for us. We make sincere efforts to understand your needs, and create products that exceed expectations.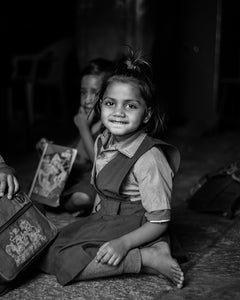 Our mission
Apart from cleaning the dust, dirt, and grime off your shoes, we also want to clean up the society, or in the least contribute towards it. We believe the best way to achieve this is by helping youngsters get to and stay in schools. 'Cos education can set your 'sole' as well as soul free. So, we have aligned with 'Bridge of Hope', an NGO for the protection of rights of children and youth with disability. In collaboration with them and with the support of the SHOEGR sole community i.e. our users, we aim to provide amenities to children in need, across India.

Our mission for the community: Put shoes on every child's feet and a school bag over their shoulders.
"The feet that walk the path to dreams shouldn't have to face the world unadorned and naked."